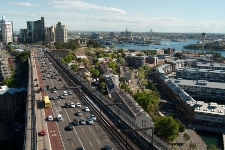 Uber for Massage
Uber for Massage
8 reasons why not to choose an "Uber for massage" service
There seems to be a proliferation of massage service providers offering an "Uber for massage" type service. You go online or use and app to book a mobile massage therapist virtually at demand.
Sounds good in theory but, as an experienced provider of mobile massage in Sydney, I'd like to put forward reasons why you should book with me (or someone like me) rather than use one of these providers.
1. I am an experienced remedial, sports, Swedish, pregnancy and deep tissue massage therapist. The majority of the therapists who work for Uber for massage companies will likely to be newly qualified and/or inexperienced.

2. I provide a guarantee for my massage service – click here for more information. Also I guarantee that when you book an hour's massage, the hour begins when I first place my hands on you. I have heard of organisations who include set up/pack up and consultation as part of the hour you have booked so that in reality you may only end up getting, say, 50 minutes of actual massage.

3. I can provide receipts for health funds for remedial massage if you are eligible to claim from your fund.
NB that there are only a couple of health funds that permit this. Please mention your fund when booking and I will let you know if you will be able to claim or not
.
4. Continuity of treatment. With Uber massage companies there is no guarantee that the therapist you saw last time will be available (in fact there is not even a guarantee that they will be working for them as there is likely to be a high turnover of therapists). I have been providing mobile massage in Sydney for over 10 years and plan on doing so for the next 10.

5. I am accredited with professional organisation (ATMS).

6. You can talk to me prior to your massage if you have any questions. With an Uber operation you will only be able to talk to a third party and not your therapist directly as most of these companies forbid therapists providing their contact details to you.

7. My information is available through this website so you can find out relevant information about me rather than having knowing nothing about your therapist prior to them knocking on your door.

8. If you have a specific requirement for your massage such as remedial, sports, pregnancy or deep tissue massage there is a chance that a service provider would send you a therapist that is not proficient or trained for your particular need. There is an incentive for them to send just any therapist and deal with the consequences later should you not be happy (banking on the fact that most people are too polite to complain).
Now this article is not to say that you should never consider using an Uber for massage service. There are times when you just want a massage at short notice without any specific goals or expectations. On a quiet Saturday night and you and your partner are looking for something different then being able to order two therapists to come to you for a couples massage could be a great way to relax for the evening. If you are a busy person and find it hard to commit in advance to a schedule then again it's a big tick for massage on demand. Being able to order a massage on demand can be an attractive option (and most of the providers seem to be offering their services at a reasonable price, in my view).
Whilst I do not offer massage on demand as such, you can visit my schedule by clicking here. This is real-time information and, depending on my availability, it is potentially possible to make a booking with as little as an hour's notice.
Please do not hesitate to give me a call on 0434 631 987 if you require any information about my Sydney mobile massage service.
……………..