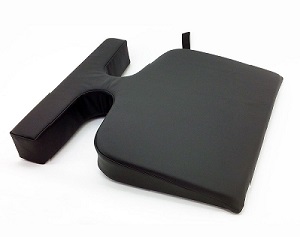 Prone Breast Support Bolstering
Prone Breast Support Bolstering
For many women, lying face down on a massage table can be uncomfortable. In particular, women with a larger bust may struggle to enjoy and benefit from a mobile massage in Sydney. The pressure on their breasts is too much and can be painful. Nursing mothers or women who have had breast augmentation may also have difficulty in lying on a massage table for an extended period of time.

For a while now, when it is apparent that women were uncomfortable when lying prone, I have been placing towels under their shoulders as this can alleviate some of the pressure on breast tissue. However, it is a far from ideal solution. At best, it can offer only some degree of relief for some women, some of the time.
T-wedge Feminine Breast Bolster Pillow
I was recently made aware of a product on the market that may offer greater benefits, namely the T-wedge breast bolster. I have linked to a Youtube video demonstrating the bolster below. But, in summary, it is a wedge shaped cushion with cut-outs on the side. The woman is supported across her collar bone and down the sternum.
The result is that there is less pressure on the chest. And so hopefully, women with larger breasts, nursing mothers or those who have had breast enlargement all can now enjoy massage whilst lying on their front.
---
Mobile Massage Offer
As the time of writing this post, I have an order for a T-wedge breast pillow. This will hopefully be arriving by mid January 2021. Would love to have a couple of Sydney mobile massage clients act as guinea-pigs. If you have ever experienced discomfort when lying face down on a massage table then give me a call on 0434 631 987. Please mention that you have seen this offer. I will to arrange a time that suits for a trial mobile massage (subject to my availability and your location).