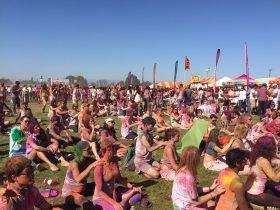 Mobile Massage Records
Mobile Massage Records
I'm sure most massage therapists would have "claims to fame" at one stage or another during their massage careers. The following is a list of my mobile massage "records"and "claims to fame" although I suspect some of them would have been bettered by other therapists. br> br>
Most locations visited to see same client – 6
br>
Most generations massaged within one session – 3
br>
Largest age gap between clients massaged in the same week – 94 (100 yr old and 6 yr old).
br>
Most visits to same location in the same week – 4 (pregnant client towards end of 3rd trimester).
br>
Number of pregnancies massaged the same woman for – 3 (all boys!)
br>
Number of times bitten by dog during a massage – once. On the thumb but fortunately did not break skin.
br>
Number of times arrived at clients home to find that they were not able to receive massage because they had been arrested – once (and for a very serious crime as well).
br>
Longest massage given to the one person – 3 hours (but I suspect that there may be many therapists who have done as long if not longer). Happy to discuss pricing if you want to help me break this record.
br>
Number of times I've been able to walk between massage – 2. Maybe doesn't sound that many but given that I cover a larger area of Sydney it felt really weird each time to me since on both occasions the fact that the massages were within a couple of houses of each other on the same street, was pure coincidence (the second booking was made online – ie outside of my control).
br>
Most unusual room for massage in a house – probably garage. (Maybe not that unusual in that it is often the quietest room in a house but always feels a little strange).
br>
Most unusual location for a massage – toss up between a brothel and a pole dancing studio. (nb the brothel was a student pop-up Meriton apartment type venue which I had no inkling about until was forced to move from massaging the client in the bedroom so that a paying client could be "accommodated")
br>
Number of times door answered by naked client – 0 (which is fine by me – not looking at setting any records here!). Topless in a thong is probably the least anyone has answered the door to me. I do suspect that it's only a matter of time before someone answers the door nude given the increasing number of people that seem to be completely comfortable with nudity, often happy to fully disrobe and chat with me while I'm still setting up my table.
br>
Number of times aided and abetted break-in to be able to give massage – once. Full story here.
br>
=====
If you have any questions or suggestions for records then please feel free to comment or drop me a line.