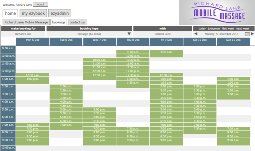 Massage Apps Sydney
Massage Apps Sydney
Seemingly there are quite a few people who think that there is a potentially great business opportunity to create Uber for massage type businesses ie utilise a Sydney massage app so that you can book a mobile massage on demand. There seems to be a new app being created virtually every month or so. I have written previously about the disadvantages (and advantages) of an Uber for massage type service but this article talks more about Sydney Mobile Massage Apps and online booking.
In particular if you are looking for massage on demand then please feel free to check out (and use) my online diary booking facility whereby I could potentially be with you in an hour or so depending on my availability.
From the business side of a mobile massage service provider, I'm not convinced that this is enough demand to justify the expense of creating a mobile massage app based business. Maybe I will be proved wrong (& probably there is room for one supplier in the market ie the one that has the deepest pockets and can outlast the other entrants) but there is just not a huge untapped demand for mobile massage.
I have been providing mobile massage in Sydney for over ten years and understand that most people who are happy to have a therapist come into their home are discerning consumers and choosy about who they are prepared to let massage them. On the whole, they will do more research than click a few buttons and accept just whoever is available at short notice for them. Others just are not prepared to let strangers into their homes and others are not prepared to pay the premium for the convenience of having someone come to them.
From the therapists point of view, they may sign up to be a provider on a massage app service but without sufficient business coming in then it is unlikely that they will be committed long-term to the business.
===============
I understand there are occasions where people are looking for a massage-on-demand and will be willing to accept (almost) any therapist who is available. But if you are more discerning and are looking for an established/accredited massage therapist then please feel free to browse the information on my site (or give me a call on 0434 631 987). Mention that you have seen this page when you book either over the phone or online and I will upgrade one 60 minute massage to 80 minutes for your first appointment at your home with me.
Conditions:
– Offer expires 31st December 2016
– You must mention this offer when booking (or include it in the comments section if booking online)
– Subject to being within my service area www.richardlanemassage.com.au/areas.php
– Only one offer per household
– Subject to availability
– Massage cannot be split between two people

– Health fund rebates not provided
– Not valid for massages in Sydney hotels
– Valid for new and existing clients

---
Please do not hesitate to contact Richard if you have any questions to any information presented on this blog.
Any information, advice, recommendations, statements or otherwise contained herein, or in any other communication made by or attributed to Richard Lane, whether oral or in writing, is not intended to replace or to be a substitute for medical advice trained by a trained physician or healthcare practitioner.
---
www.richardlanemassage.com.au
0434 631 987 or contact
Click for Online booking


---