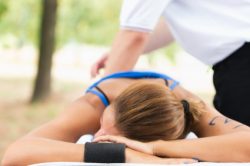 Advantages of Being a Mobile Massage Therapist
Advantages of Being a Mobile Massage Therapist
I've been a full time mobile massage therapist for about the past 7 or 8 years (and part time before that). Being mobile is not for everyone as it generally involves working evenings/late nights/weekends. You have to deal with sometimes having to set up in areas that are not ideal that may be up a flight or two of stairs. Parking – becoming more and more a problem for many suburbs. And Sydney traffic – say no more. But all up being a mobile massage therapist in Sydney works for me.
Why?
Simply for me the benefits outweigh the negatives.
I enjoy the flexibility of not being tied to specific schedule and being able to provide clients with a premium massage service in their own home at a time that suits them. I like the fact that I am able to provide massage to mums with children at home who would not be able to get out to have a massage at a clinic or to busy workers who work long hours who wouldn't be able to go a Sydney massage clinic in normal hours of operation. Most people I massage though just want to appreciate the numerous benefits of having a massage at home.
I get to work in a wide variety of locations and have provided massage in most rooms of the house. I've massaged international celebrities in hotel penthouses with following appointment being in a one-bedroom unit. For me, it's all great (or mostly great anyway  ) and the location is really not important and regardless of location the body on the table is treated with the same respect. Once someone has disrobed and they are on my table, then my focus is on them.
I've "followed" clients from home to home as they have move (the most places I've seen the one client is 5, I think). I've massaged women through their first, second and third pregnancies. I've massaged whole families (a few times in my career I've massaged three generations in one session). I've massaged people who were in so much pain that they were virtually unable to move when I arrive but by the end of the session their pain is significantly less (as an aside, low back pain which is in the acute phase may be contraindicated and so there are times when I will decline an appointment if I think that massage is contraindicated or it just may not help).
One aspect I am always mindful of is the fact the being invited into someone's home to provide massage is a privilege. Particularly for women at home on their own, accepting a unknown male into their home and then being expected to take their clothes and lie on a massage table, may be considered a big ask. If you are in this position and concerned about this aspect, all I can say is that I understand (occasionally people will ring someone when I arrive and then again when I finish just for their own security and comfort – all fine with me).
There are other benefits of being a mobile therapist that reinforce why I've chosen this path rather than being in a clinic.
The lack of overheads
The ability to change my availability to suit personal circumstances
The work-day variety (when I worked in a clinic you'd see the same people the same day on a regular basis so there were occasions that it could feel a little like Groundhog Day). Often my day can appear quiet at the start yet very rapidly change. Other days just stay quiet – it's all good.
When you work in a clinic you can often do 5 or 6 massages without a break. Doing mobile work you are getting breaks between clients so can stay fresher and maintain good energy to deliver the best massage possible.
How long I continue to do mobile massage, I don't know. Traffic, parking and my aging are constraints that may impact. But whilst I still enjoy it (and hopefully clients still receive benefit and enjoy my massages) then I have no plans to change my working structure for the foreseeable future.
……………