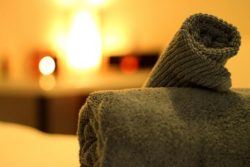 No place for body shaming on my massage table
No place for body shaming on my massage table
A common topic discussed in social media massage groups is that of the body-shaming of clients. Whilst, in theory, it should be an absolute no-no for a therapist to make comments that could be perceived as body-shaming, the reality is that it happens far too often. Body-shaming comments made by therapists may refer to a client's weight, physical appearance, skin condition, body hair, grooming, age, tattoos, etc.
Usually these comments are genuinely innocent or well-intentioned but the reality is that the comments make it less likely that the client will return to their massage table (or indeed any massage table). For example, an observation such as "you've lost weight" could be interpreted as being a positive reinforcement but, even if the client is trying to lose weight, the risk is that such a comment may make the client self-conscious or they may be concerned about returning should they put on a few pounds.
Now my view is that all massage clients have the right to receive massage without judgement.
Many of my clients are female and, as a male massage therapist massaging women in Sydney, I am mindful and respectful of the fact that because a woman is prepared to lie on my table naked or near naked and that a high level of trust is being placed in my hands. It is my role to ensure that whatever concerns you may or may not have about your body, your appearance and your grooming are simply not issues for you during your massage.
If you have never had a massage or are reluctant to receive a massage from a male therapist then I hope that reading this article may, at least, make you consider the option. If you are reluctant to book an appointment because of your shape, size or age, for example, please consider that I have yet to massage what society may consider to be a 'perfect' body. The Sydney mobile massage service I provide is respectful and without judgement.
If you have any questions then please do not hesitate to give me a call on 0434 631 987.
…………….